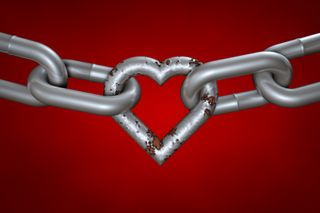 And when your customers love you….that relationship is like steel.  It's recession proof, low ball price proof and it's one you will both keep and enjoy for years to come.
With that lifelong belief in my head, I traveled to Chicago to attend GasPedal's Word of Mouth Crash Course.  Andy Sernovitz is a bit like a WOM preacher.  Dressed in black, he stood before the workshop crowd and told us the good word.  I am paraphrasing a bit, but…
"I love word of mouth because it's about making our customers happy.  It's not something that can be bought or faked.  It rewards companies who want to do it right and who care about their employees and their customers.  Word of mouth must be earned and if you do it the wrong way, you'll be exposed as a poser.  If you do it right, you will be rewarded with customers who become your fan base, rather than a target audience."
Amen Brother!
This is the same gospel that I've been preaching for years, both here at the blog and to the MMG clients.  You can't be a good word of mouth marketer if you don't understand your brand.  It has to come from your organization's heart and sweet spot.
I thought I'd make Thursdays Word of Mouth Marketing Day here at the blog for a bit so we can explore some of what I re-learned at GasPedal's event. 
  I want to encourage you to do this today. Yes, today.
Ask someone.  Ask them to give you feedback.  Ask them to introduce yourself to someone new.  Ask them to take a free sample of your product and share it with someone else.  Ask them to bring a guest for free next time they visit your establishment.  Ask them to share your free white paper.  Ask them to tell you what they love and hate about your service. 
Use surveymonkey.com, a photocopied form, a call to a former client,  a bill insert, a coupon, a free something.  But somehow, someway….ask the people who already love you to help you get better.    You will be amazed at the results.
In terms of the day itself, I've been doing this stuff for 25+ years, but I walked away with an entire page of "should try" ideas, "must do" actions and lots of good reminders and reinforcement.  I took more general notes in the workbook, but I kept an action item list separate — and it filled a page.  Even for this old dog – it was time very well spent.
My only complaint and I suppose in some ways it's a backhanded compliment is that it was too much.  The Gas Pedal team tried to pack so much into the day, it was a bit of overload.  One of the things I was most looking forward to (each person actually creating an action plan for a specific project) didn't get done, because there was so much content and discussion.    We started at 7:30 am and by 5 pm, I was absolutely brain dead.    Actually, I was brain dead by 3:30, but hung in there until the end.
 But, that feels a little like complaining because you got an extra dessert.   
I can't think of a company or marketing pro I know who wouldn't benefit from the day.     I would have liked more B-to-B examples and it might make sense to do an all B-to-B class, just so everyone is talking about the same kinds of scale and challenges, but even with that said – this is a workshop you should put on your calendar for 2009.   They've got a special discount code (CCalumni) that will get you $250 off.   
Fresh, sustainable ideas, new tactics that will turn your customers and prospects into fans, and $250 discount.  What more could you ask for?
Disclaimer:  Andy invited me to audit the workshop for free.  I paid to fly there and stay in Chicago but he graciously waved the registration fee.   Hopefully you all know me well enough to know, if it sucked, I would tell you anyway.