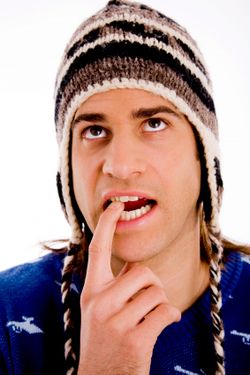 My e-mail and mail is a whole lot more interesting (grasshoppers anyone?) now that I am blogging, I must tell you.  This week, I got an e-mail from a student in Serbia who is wondering how to use a trucking company's drivers to strengthen relations between the company and the customers.
Here's his e-mail.  I promised him we'd help him out.  His presentation is due in less than a week, so jump on it.  Put on your thinking caps and share some ideas:
Hello Drew!
May I ask you to give me some advise
I am a student in marketing menadzment in Serbia, and I have a project to do with the next problem:
i need to use the trucks drivers to improve the brend of the company and relationship with customers. the company is one of the world famous in its industry, i cant tell its name, just for the start.The company producing(making) a constrution material, most important is cement, and its agregates and then delivers to the customers with their big trucks. the high managment doesnt spend a lot of time with the customers, like the drivers do, because of that, kompany wants to use that fact to impove relations, to use drivers , at one side to get informations directlu from people who buying its products, their suggestions, opinions…and at the other to  show them that care about them, to show its brend standards, protect and improve the same, and make itself diferent from competion.The drivers have about 15-30 minutes until the cargo is unloaded to make an impression on customers. some usual things are next: they need to be clean and their trucks, to wear uniforms, to deliver the products on time…smile…
Any idea would be a great help for me who is gonig to be a future manager. i hope that we will cooperate in future, and that i will be able to help you, as this things like blogs and similar are just starting in my contry or in my enviorment. I am sorry about my english, but i am still learning. i am better in reading and uderstanding then writing, of course.
If  you have any idea or friends whoworking on similar things, or you have adresse on someone who can help me please send me email.i have 1 week to finish the presentation.
Thank you for your time!
Milos B. sudent of final year of Faculty of Organizational Science, University of Belgrade