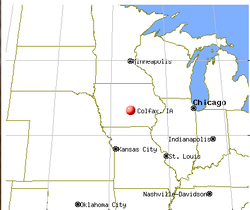 I will try to make this brief.  Last spring, I was approached by a company in the UK called Logo Inn who creates logos and identity packages online.  They wanted to do a contest, demonstrating their services.
So I did a series of posts on logo design and offered one organization a chance to win a free logo….as long as the entire process could unfold here on the blog, so we could all learn from it.
The series looked like this:.
That last post was where things spiraled out of control.  The city of Colfax (and most of my commenting readers) weren't crazy about any of the logos.  So I sent all the critiques back to the logo company and then heard nothing.  I've attempted to e-mail my contact there for several months — but nothing.
But I promised the city of Colfax a new logo and dang it, they're going to get one!
This is where you come in.  My company, MMG could do it.  We design logos for clients all the time.  But instead, we decided it would be more fun and more of a learning experience, to open it up.  So here are the "rules" as it were:
~ We're putting up a $250 VISA gift card for the winning designer. 
~ Use the creative brief post to read about what they want
~ Download a PPT of photos from the town by clicking here
~ Read Colfax's reaction to the Logo Inn logos by clicking here
~ Submit your new logos (jpg format please) in BLACK AND WHITE ONLY to me (drew@mclellanmarketing.com) by Friday, December 4th
~  We will publish all the choices here (with a link to the designer's website/blog)
~ Colfax chooses a winner and you get a gift card before the holidays!
What do you say?  You ready to show the world your work and help out a great Iowa town?