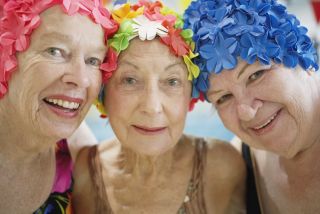 Back in December, I wrote about some of the trends that would be influencing all of our businesses in 2010.  I thought it might be helpful to look at some of these trends a bit more closely.
Let's dig into the trend that we've actually been anticipating for the past several years.  After all, we've known that the baby boomers are such a huge group — there's no way their crossing into the 65+ category wouldn't throw our society a curve.Look at these facts:
By 2020, people over 65 worldwide will outnumber children under the age of 5 for the first time.
By 2020, 22% of western civilization will be 65+.
The ratio of workers to retirees will continue to fall.  Today it's 3:1.  By 2030, it will be just over 2:1.
So what does that mean for all of us?
Shifting away from our youth focus :
For so long, mass marketing has been all about the young.  As this trend takes hold, marketers are going to shift their attention to those boomers.  Remember, this group of seniors is tech savvy, active and has quite a bit of disposable income.  Even products that are typically designed for the youth market will be aimed at seniors, like motorbikes and technology.
Simplified, smarter products :
We've already seen companies like Jitterbug simplifying technology for a senior's physical limitations and that's just the beginning. Now, there's going to be a huge new market for smarter products that accommodate senior's needs. 
For example, there are canes and walkers being created with GPS technology built right in.  Wonder what will be next?
Subtle safety products:
This era of seniors isn't ready to slow down or think of themselves as elderly.  Most of them are still quite active and aren't going to see themselves as someone who  needs to be taken care of.   But let's face it, as we get older — we need a little assistance.
Ford and other car manufacturers are working on technology that can detect if the driver is getting drowsy (a major cause of car accidents with seniors behind the wheel).  As soon as the car senses the driver is not alert, it automatically lowers the temperature in the vehicle to wake up the driver.
Here's another one — Thermador is developing a stove top that automatically shuts off as soon as the pot is lifted off the burner.
New problems/opportunities brought on by the volume:
In the good old days, when someone got a little older, their family rallied around and took care of them.  But with families scattered across the land and with fewer offspring per family — many boomers are going to be on their own.
3 of the 10 industries with the fastest employment growth are tied to this trend.
Home healthcare
Elderly and disabled services
Community care facilities
There are also all kinds of senior concierge companies cropping up.  They'll do everything from take someone to the doctor and take notes, to putting up your Christmas decorations or running errands.
How can you take advantage of this?
That's the real question. As with all trends the question is not whether or not they're true but what we're going to do when they come to pass.  How can your business capitalize on what's coming?  How can you be come indispensable to this huge market?