Two of the speakers at the recent Conference Board's marketing event also happened to be best selling authors.  As a perk of attending, everyone was given a copy of both of their books.  They were both inspirational speakers — drawing from their own experiences, research data and some good old people watching.
I'd already read Tony Hsieh's Delivering Happiness (click the title to buy the book) but really devoured John Gerzema's Spend Shift (click the title to buy the book) over the past few days.
Rather than do my usual recap, I thought I'd share YouTube presentations from each author. I think you'll feel their passion around their areas of expertise.  The books represent both halves of the whole.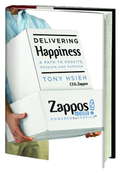 Hsieh's book is mostly about internal culture and the power of building a strong one.
Gerzem'a book is about the consumer and shifts in their attitudes, buying behaviors and aspirations.
Put them together and you're going to be a whole lot smarter.  And both your employees and customers will be the better for it.
But without further ado… let me introduce you to the authors and let them do their own talking. (e-mail subscribers, click here to view the videos)
Meet Tony Hsieh: 
Meet John Gerzema:
Both books are good reads — lots of story telling, lots of tangible examples and plenty for every business, big or small, to steal from! 
Note:  Both book links are Amazon Affiliate links.