September 2, 2020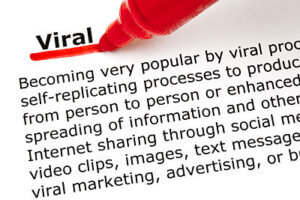 Pre-COVID, my daughter and I flew to Vegas to see a Lady Gaga concert. We were fortunate and had terrific seats. Right before the show started, security walked Bradley Cooper to the seats directly in front of us. As you probably know, he and Lady Gaga co-starred in A Star is Born and everyone was abuzz about their chemistry in the film.
Oddly, most people didn't notice him there. As the concert started, we surmised that she might call him up on stage to sing with her so when she sat down at her piano and began to talk about a friend of hers, I was ready. From our unique vantage point, I caught the moment on video and uploaded it to my Facebook news feed before we left the venue.
Over 10,000 views, 50+ shares, and hundreds of reactions and comments later on Facebook, it certainly caught the attention of my audience. I was just sharing a cool experience that my daughter and I had with my Facebook friends, but it quickly went way beyond that. Because of our unique placement in the audience, over the course of the next couple of days, we showed up on The Today Show, Entertainment Tonight, and a bunch of other news outlets, and the video was exposed to more and more people.
On a very micro scale, it went viral. Not intentionally, but it certainly got more attention than most. For many marketers, creating a video for the business or client and having it catch fire is the holy grail. We all want to launch the next ice bucket challenge, but it's rarely manufactured. It usually is lightning in a bottle sort of magic. Let's use my Lady Gaga video to dissect this a little bit.
Timeliness matters: If I had shared my version of what happened at the concert a few days after it happened, no one would have cared. My video was share-worthy because no one but the people at the show knew it had happened and there was no official Lady Gaga issued video of the event yet. My video was live 15 minutes after the concert ended.
If you want your video to take off and it's tied to a moment or event – there's no time to finesse the edit or run it by legal. You either can go live immediately, or you risk sacrificing your edge.
It's tied to a more significant reason or cultural hot button: A Star is Born was a huge movie, the Oscar nominations had come out four days before, and both Bradley Cooper and Lady Gaga were nominated. On top of all that, they'd never performed the song (Shallow) live before. All of those factors contributed to the interest level.
The Ice Bucket Challenge was tied to a charity and a crazy stunt which also added an element of participation, which the Lady Gaga video did not.
It captures something unexpected: No one who bought a ticket to that concert thought Bradley Cooper might show up. It was a fluke event, and that was part of the appeal. Think of the videos of the kid on gas after being at the dentist or the cat frightened by a cucumber. One of the reasons we share them is because they surprise and delight us. That's pretty tough to manufacture.
Video is a very effective marketing channel, but the odds of us creating something that goes viral are pretty slim. If you happen to be in the right place at the right time – take full advantage and leverage it for all you can. But we need to stop trying to create something that is, almost by design, a freak event.
More