February 9, 2021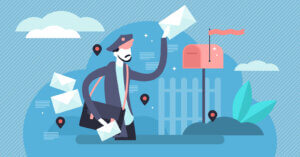 It's 2021, and we're still in the midst of a pandemic, so all marketing paths are leading to digital solutions, right?
Actually, no.
Long before the pandemic hit, some very old-school marketing tactics were enjoying a new lease on life, and the realities of 2020 have just furthered their success. I don't believe any of these will fade in effectiveness or popularity post-recession. Which means we'd better study up on how these golden oldies have been reinvented to be relevant today.
Direct mail: As our inboxes get more cluttered, our mailboxes have become prime real estate again. Technology has leveled up what's possible with direct mail. AI technology allows brands to learn more about their target audience. Based on what we can now do with personalization, tracking how a recipient interacts with a direct mail offer or whether it results in a call, product trial, or purchases, is much easier.
Catalogs: Remember when you were a kid, and you pored over the Sears, J.C. Penney, or other toy catalog at Christmas time? I read and reread those catalogs like they were the latest Harry Potter novel. Amazon and other retailers have picked up this old tradition but with several new twists. Amazon's 2020 catalog is about 100 pages packed with toys, electronics and games for all ages. It uses technology like QR codes, special in-app pricing and other targeting tactics to take full advantage of our nostalgia, the fact that people have screen burnout and the latest in technology.
Referral and loyalty programs: As all sales screeched to a halt this past spring, marketers were quickly reminded that there's incredible gold to be mined in their existing customer database. Many businesses were kept afloat by those current customers, who were the most likely to spend money as things opened back up. Word of mouth stimulated spontaneous customer campaigns on social media to support local businesses and drove new opportunities when everyone was clinging to every dollar.
Product demos: No one is hanging out in the mall or big-box discount stores, gathering around the demo table, watching live demonstrations. But thanks to the power of video, demos are alive and well. Some brands have combined demos with an influencer campaign so that they have a "celebrity" endorse their product. But many brands are forgoing the influencer and using employees, real customers, or animation.
With the help of technology and social media, all of these marketing tactics can take on a new life and new effectiveness. One advantage we have this go-around is that we can weave all of these tools together to maximize their success. Merging digital and analog marketing efforts can be a potent combination that reaches your audience in multiple channels and often with multiple mediums.
We can also use sophisticated first and third-party data resources to make sure we're delivering our messages directly to the people who are most likely to be receptive to them.
Our ability to accurately measure and monitor in real time has also improved dramatically, even over the past five years. While none of these marketing tactics work instantaneously, we can make adjustments quicker based on the real-time data collected, saving both money and time. We don't have to wait for months to see trends and do A/B experiments to see if we can spike results or reduce waste.
As you think about how you're going to connect with audiences in 2021, don't forget that there's still plenty of life left in the tactics that you probably cut your teeth on early in your career. Be wary of the shiny-object syndrome that we're all susceptible to and remember that, at least in the marketing world, you can teach an old dog some new tricks!
This was originally published in the Des Moines Business Record, as one of Drew's weekly columns.
More