March 7, 2013
Email.  We hate it when our inbox is overflowing but we love the possibilities as marketers.  Email flows freely (sometimes too freely!) and because of that, I think we sometimes take it for granted.  We assume it has magical powers of some kind….and so when we want to reach an audience — we just fire off an email or three.
Probably not the best approach. Like any marketing tactic, it requires some planning, effort and follow through.  Our friends at agencyside (creators of the BOLO conference) developed this inforgraphic to outline what it actually takes to drive revenue from the inbox.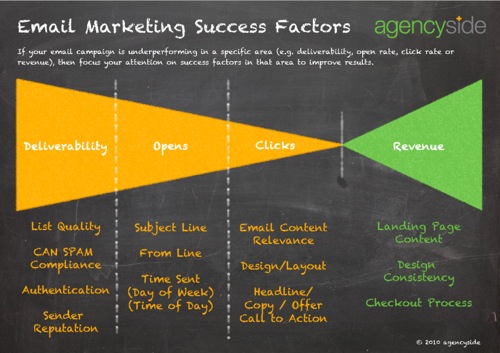 Click here to download a full-sized version.
Next time you want to use email to drive home a message, create sales or generate traffic for a specific outcome — don't waste your time or the recipient's.  Use this handy reminder to make sure you cover all the bases!
More