June 8, 2016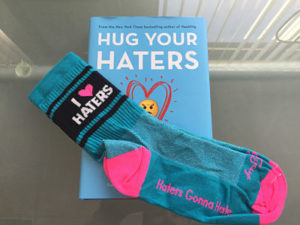 Hug your haters? Who wants to embrace those who serve up bad reviews, slam you in social or pepper your website with complaints?
If you're smart — you do.
Back in the good old days, if you were disappointed in product or a company's service, you wrote them a terse letter or if you were really steamed — you'd call their 800 number.
And then you'd wait. And wait.
Today, if something goes awry — odds are you're going to grab your smart phone. You might snap a picture and post it on Facebook with a scathing commentary. Or you might go to Yelp, Expedia, or some other review site and share your experience.
You might take to Twitter to ask for some help from whoever is manning their Twitter feed, if anyone is.
But odds are, what you won't do is stay silent.
According to Jay Baer's new (and brilliant book) Hug Your Haters, there are two kinds of haters out there.
If we want action on a problem, we're offstage haters. We prefer to talk privately one-to-one to resolve an issue. We pick up the phone. We send an email. We meet in person.
If we want an audience, we're onstage haters who are quick to publicly shame on social media.
"In the same way that bumper stickers are the most shallow form of political expression, social media grousing is the thinnest form of customer complaints," says Baer. "Though onstage haters may not expect a reply, they definitely desire an audience," says Baer. "That's why they raise the stakes and take grievances to a public forum."
Dealing with these public and private complaints is the next frontier of marketing. The truth is that most companies do very little, if anything. Which costs them customers, dollars and their reputation. Customer service has become a spectator sport and we can't afford not to get into the game.
Baer, the book and the research that the book is base don all say the same thing:
Answer every complaint, in every channel, every time. Admittedly, it's not easy to hug your haters. It takes cultural alignment, resource allocation, speed, a thick skin and an unwavering belief that complaints are an opportunity.
Answer your onstage haters publicly because the opinions of onlookers are the real prize.
Don't make it your goal to have the final word at all costs. Respond no more than twice to an onstage hater and then move on. "Violating the Rule of Reply Only Twice can drag you down into a vortex of negativity and hostility, and it's also a waste of your time," says Baer.
And offer to resolve the issue offline with your onstage hater. It's tough to solve a complex problem with 140 characters on Twitter.  You also don't want anyone sharing personal information in full view of your digital onlookers.
So if you're a business owner who's not on social media, start paying attention to what's being said about you and be ready to respond.  Hug, and never mug, your onstage haters. They're playing to the crowd and so should you.
How you respond will differentiate your company from all the businesses that stay silent or have no clue what's being said online, says Baer. "In today's world, meaningful differences between businesses are rarely rooted in price or product, but instead in customer experience. Hugging your haters gives you the chance to turn lemons into lemonade, morph bad news into good and keep the customers you already have. So few companies hug their haters that those that make the commitment are almost automatically differentiated and noteworthy when compared to their competitors."
The book is packed with real life examples from companies of all sizes and a ton of data based on research Jay did with partners Edison Research. Jay also reached out to many other thought leaders to get their take.
The truth is — this is a daunting time for us as business leaders and marketers. Evolving your culture to respond to every comment, complaint and review is a whole new landscape for all of us. But the consequences of not doing are even more daunting.
Luckily for you — I have five copies of Jay's book Hug Your Haters to give away. AND for one lucky winner — I have a pair of Hug Your Hater socks. To be eligible to win the book/socks — leave a comment.
More