May 31, 2013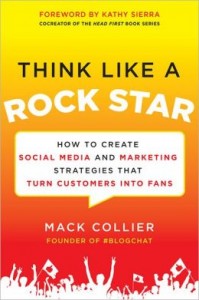 Mack Collier has hit a home run with his book Think Like A Rock Star* and I really want all of you to get his message.
As consumers get more jaded by traditional advertising and marketing that interrupts rather than connects — this book serves up the answer.
Why not be so good, create so much goodwill and treat your best customers like the super stars they are — all so you can unleash the word of mouth power of those best customers? We know that there's nothing more influential than word of mouth and that an endorsement from a trusted friend/source absolutely influences buying decisions. So who wouldn't want more of that for their business?
Author Mack Collier has studied how some of the world's best entertainers have inspired their fans to help grow their fan base, sell concert tickets and CDs/downloads and in general — create buzz that elevates the star's status and earning potential.
One of the reasons this is such a smart read is because it puts the marketing emphasis where it belongs — on existing customers (and even more so…. super engaged existing customers) rather than chasing prospects. Mack outlines many ways that rock stars connect with their fans, show their genuine gratitude and appreciation to their fans and inviting those fans to be their biggest advocates and evangelists.
You'll get all kinds of ideas of how you can make your business a rock star too. Your best customers will be as ready to give you a standing ovation as the examples in the book. One of the features of the book you'll find incredibly valuable is the Backstage Passes. These informational call out boxes give you very specific ways you can apply the examples to your own business. Like a little recipe card — they'll guide you step by step.
I highly recommend this book (click to buy on Amazon*)and the concepts in it. Mack models his theories well — read the book and become one of his fans!
*Affiliate link
More