June 26, 2012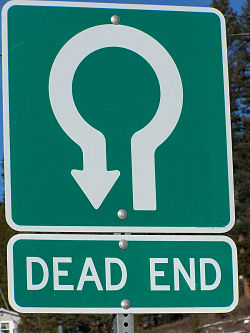 According to the most recent statistics, 3 bazillion QR codes are scanned every minute. (Okay, maybe I'm off by a half bazillion but you get the idea) And truth be told… most of the destinations suck.
Come on ad agencies, big brands and web gurus — stop creating QR code campaigns that drive the user into a dead end.
What do I mean by a dead end?  A destination where I get stuck.  I watch your video, look at your desktop site (come on people!) or view your print ad (seriously?) but have no where to go from there.
How do you avoid creating a dead end? Remember that marketing is a series of "next steps" so give me one to take.  Try one of these on for size:
Invite me to sign up for your e-newsletter
Give me a chance to win something worthwhile
Ask my opinion (let me vote, rate or comment)
Give me the chance to share your destination with my social networks
Let me request a sample
Offer me a coupon to download or email to myself
Make it possible for me to call your store/office
Let me do some product research
Entice me to buy something
If you can get me to actually scan your QR code, I must have some interest in what you have to say.  Don't create a stunted, one-way conversation.  Give me a chance to continue the dialogue.
If we don't start getting a whole lot smarter about the QR code campaigns we create — we're going to train people that scanning one leads to a frustrating, unsatisfying experience.  Which means that pretty soon, they're just going to be more noise.
Stop creating dead ends.  Instead, create a real conversation.
More