June 3, 2012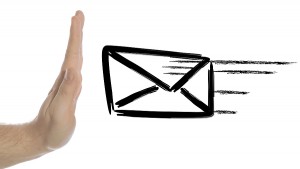 I'm working on our weekly e-newsletter (always different content than here at the blog — gotta keep it fresh!) and I'm writing about email marketing mistakes.
One of the mistakes I'm talking about is using phrases or words that trigger spam filters.
I'm in the middle of making the list and realize…"duh, Drew, you're going to email this out to the subscriber list and basically, by demonstrating all the criteria that trigger spam filters…you are going to trigger spam filters!"
Sooooo, I am going to list them here and then invite the email subscribers to come check out the list in this safe environment. You, my blog readers, are the lucky recipients of this little technology work around, because now you too can see the list of stuff you shouldn't include in your emails if you want them to actually reach the recipient.
Start reading here…newsletter subscribers:
As I was saying….every email software has built in spam filters and most companies add another one of top of that. Every email that is sent through their server – on it's way to your target audience – gets screened by the spam filters. If your email matches one or more of the criteria they set as likely to be spam – your email will never get delivered.
What are some of those common filters?
Excessive use of exclamation points or other punctuation!!!
Using ALL CAPS (especially in the subject line)
Bad code (copying a word document directly into your email software will often do this)
Colored fonts
An email that is just an image and very little actual text
The phrase "you registered with a partner" (in other words…we got your name from someone else)
The salutation "Dear" before the recipient's name
Attachments
(Newsletter subscribers…you can head back to the newsletter to read the rest of the email marketing mistakes or you can hang out here..but don't miss the rest of those tips!)
To you, my blog readers — thanks for letting me bring the newsletter readers into your space. If you have an interest in checking out the newsletter content — you are welcome to sign up by clicking here.
Photo courtesy of www.BigStockPhoto.com
More