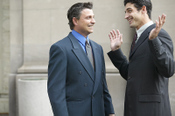 If you've read this blog for awhile, you know I believe in the power of storytelling, especially analogies.
If you want to talk about the importance of your employees understanding/believing in your company's brand, why of course you'd talk about little red wagons.
If you need to convince someone of the importance of repetition and consistency, wouldn't you naturally talk about toothbrushing?
The importance of planning? Why getting to Cleveland silly. How marketing should feel? Hello…campfire. You get the idea.
Analogies work because:
They break down the complex and make it simple
They turn the unfamiliar into something relevant
They are very memorable
They're viral — you can tell the story and watch it spread
They take the abstract and make it tangible
But don't just take my word for it. Check out this article at RainToday.com. What Jill's selling is no fish story!
Think of the most complex aspect of what you sell. If you could make it tangible, relevant and easy to understand — do you think you'd sell more? What analogy could you use to vividly describe it?