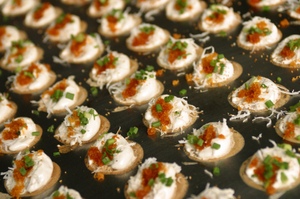 I've long said we've become a USA Today world. Bite-sized chunks of information, a pretty chart and we're good.
I recently wrote about the power of downsizing how much information you try to cram into any marketing tactic. We've also talked about how being long-winded can hurt your effectiveness. And the value of offering bite-sized test drives to our prospects.
So, I was excited when Connie Reece tagged me on a meme that was started by Jeremiah Owyang. He asks the question — do you respect media snackers and if so, how?
So I'll play along. Here's where I think I am holding my own:
I write posts like the ones listed above, trying to not only walk the talk, but teach it.
I keep my blog posts short. (for the most part)
I write a weekly marketing column that tops off at 300 words.
I use solo visuals to help tell the story.
I use Twitter and other micromedia.
Here's where I need to get even better:
Adding more categories so topic-specific readers can find content easier.
Introducing my readers to more resources for just in time searching.
Continuing to hone my messages down to their essence.
So, as the game is played…I tag David Armano, Chris Wilson, Tim Siedell, Gavin Heaton, Mark Goren and Doug Meacham.
Even if you weren't tagged, feel free to jump in and play along. How are you modifying your communications to accommodate media snackers?