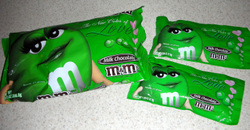 We've talked quite a bit about how consumers own our brand. It lives in their minds and hearts. But we can have great influence in terms of how our brand is received and perceived.
But sometimes, people do crazy, unexpected things with your brand. Take M&M's for instance. We've all known about the powers of the green M&Ms for years. Pretty darn sure the folks at The Mars Company didn't start that myth.
But, now they've demonstrated that they're smart enough to take advantage of it. As I was perusing the Valentine's Day row (have to get ready for Who Loves Ya Baby Day) in Walgreens, look what I found.
I'll bet they sell a ton of these packages and good for them. Think about what they did:
They embraced the brand…from the consumer's point of view.
They showed a sense of humor and playfulness (always been a part of their brand).
They took an old product and gave it new life for very little cost.
They extended their possibilities for the Valentine's Day holiday. Some will buy the pink and red M&Ms but others will love these green only packages.
They created a buzz worthy moment for themselves
They created a seasonal product that people will watch for again next year
Bravo M&M/Mars for recognizing that you can't rein in your brand and sometimes, you just have to go with the flow. In this case, brilliantly!
Related posts:
Are you brave enough to walk away from business
Extending your brand's reach
Is your brand acid-test proof?