May 4, 2021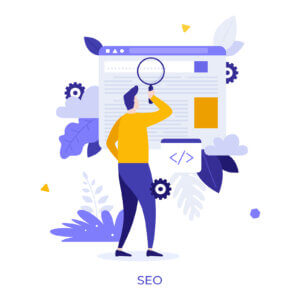 Digital marketers have long employed online search to predict how consumers will behave in the short term – will they take action in the next few minutes, hours, or days? Campaigns have most often been a short-term play and been all about the transaction at the moment or shortly after the search was conducted. No one thought about search from a longer-term brand perspective.
A recent study conducted by Les Binet, the head of effectiveness at agency Adam & Eve DDB, and the industry's "godfathers of marketing effectiveness" looked at the importance of the "share of search" metric for the past six years.
Share of search is a way of measuring brand visibility within organic search results. It's calculated as the portion of overall online interest in a particular keyword that you are capturing. If there are 100 searches every day for your product category, how many would your site receive? The higher the percentage, the higher your share of search.
You can quickly obtain your site's monthly search referrals for specific keywords or phrases from your Google Analytics dashboard. To get the average overall searches for that same phrase or keyword through Google, use the Google Keyword Tool. Be sure to set the same criteria and restrictions in both tools (country/region, keyword vs. phrase, etc.).
To test his ideas around share of search, Binet explored three categories: an expensive considered purchase (automotive), a commodity (gas and electricity) and a lower-priced but very crowded brand segment (mobile phone handsets).
The results were very telling. Here are some of the biggest takeaways:
Share of search correlates with market share in all three categories.
Share of search is a leading indicator/predictor of share of market – when share of search goes up, share of market tends to go up, and when share of search goes down, share of market falls.
This long-term prediction can also act as an early warning system for brands in terms of their market share.
Share of voice (advertising) has two effects on share of search: a significant short-term impact that produces a big burst but then fades rapidly, and a smaller, longer-term effect that lingers for a very long time.
The long-term effects build on each other, sustaining and growing over time.
Share of search could also be a new measure for brand strength or health of a brand by measuring the base level of share of search without advertising.
While share of search provides essential quantitative data, brands should also use qualitative research and sentiment analysis to get a more robust picture.
One of the data points that is incredibly insightful is the correlation between shares of voice, search, and market. Binet reports that "eventually, you reach a point where a brand with 10% steady share of voice will have a roughly steady 10% share of search and a roughly steady 10% share of market."
When a brand earns an "extra share of search," which is defined as the brand registering a search share above its market share, it is most likely to enjoy growth.
How do we influence our share of search? Organic search performance is all based on relevance. The more relevant your content, the more you should see your share of search increase. The more narrowly you define your audience and the content that will resonate with them, the more likely you will achieve a higher share of search. When your audience is niched down, you reduce the number of competitors trying to rank for those specific key words or phrases.
For most marketers, one of their goals for 2021 is to improve their visibility and search metrics. Binet's research demonstrates the value of pursuing that goal with a vengeance!
This was originally published in the Des Moines Business Record, as one of Drew's weekly columns.
More