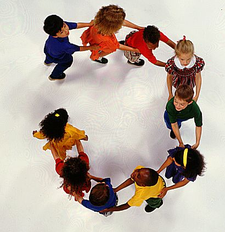 As we dance our way to my first blogiversary (Saturday the 15th) I want to spend this week honoring some people who have been in front of the line, leading the dance and keeping us on beat.  Because I sure didn't get here alone!
Without a doubt, one of the most passionate dancers in my conga line is CK (Christina Kerley). 
My blog was about 60 days old when my family headed out for our annual pilgrimage to Disney World.   I decided to blog about it and created the Marketing Lessons from Walt series.  CK saw the series and did what she did best — celebrated another blogger.  In this case, the lucky blogger was me.
In her post, CK suggested I re-package the series as a downloadable PDF and if I did that, she'd don mouse ears to help me promote the PDF.  And true to her word, she did.  So many new eyes on the blog, so many doors opened.  CK sets the example I try to live.  Give just because you can.
I have felt her support and encouragement from our very first e-mail exchange.  She is the real deal and she has played a huge role in my first year of blogging.
From that lucky introduction, an amazing friendship has grown.  We've broken bread together, spent lots of time on the phone, celebrated her momma's life…and now are proud to be co-creators of the Bloggers-Social '08!
If you've joined in the conga line and notice that we move at a lively clip…you can credit that passionate pace to a woman whose heart is always focused on others first.
My way of thanking CK?  I do my best to mirror the love and encouragement she shines onto others and hope she knows she inspires all of us to reach in and give a little more.
Who is in my conga line?
Mike Sansone
CK (Christina Kerley)
Gavin Heaton
The smiling faces
My other blog homes
YOU!