February 2, 2021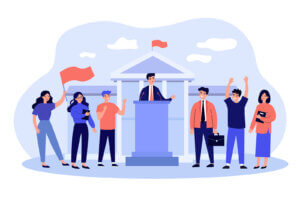 In last week's column, we walked through the pros and cons of getting political on your personal social media channels. This week, I want to look at it from your company's lens.
It's challenging to know how our consumers feel about the issue. Look at this data:
In November 2019, Sprout Social research reported that among roughly 1,500 U.S. consumers surveyed, 70% said it's important for brands to take a stand on social and political matters.
That seems pretty straightforward until, in the same survey, you see that only 47% of consumers said they want brands to share their opinions through social media channels. That's despite the fact that 67% of consumers say brands are effective at raising awareness around critical public issues when they speak out on social channels.
If that's not confusing enough, more than half of the respondents (53%) said they believe that brands only take a stand for public relations or marketing purposes.
These stats demonstrate what a complicated issue this is. But are consumers getting more clarity on their feelings as we face #MeToo, COVID, Black Lives Matter, and a contentious presidential election?
As tensions increase in the U.S., 68% of consumers expect brands to be clear about their values, according to a report from Kantar Monitor in June. Millennials have the highest expectations for brands to speak out, according to the Kantar study.
46% of millennials expect brands to take a stand on these issues.
42% of Gen Z share those expectations.
31% of Gen Xers and 22% of boomers expect brands to take a public stance on social issues.
A different study, the Corporate Social Mind Report, came out in July and showed that nearly 60% of Americans want the companies they buy products from to have a position about issues such as racial discrimination and social justice. Roughly 50% of the survey's respondents said they often do online research to see how a brand reacted to social issues.
Several other studies also show that a slight majority of Americans do believe brands should take a stand. But how do you decide what to do when it's clear that Americans are split on this issue? Actually, I think it's the ideal time to make the call.
It means you have to decide based on your organization's convictions and values combined with your perception on whether or not brands should jump into the discussion.
Those are two distinct decisions. How you feel about the issue itself is decision one. And then decision two is: Should you take a public stand?
If you are going to take a public stand, the first thing you need to do is make sure it's genuine. Do your internal policies, decisions, and employee and customer experiences align with the stand you're about to take? The minute you step out into the spotlight, you're fair game, and if anyone thinks you're being inauthentic, they're going to say so. Publicly.
Beyond that, don't just speak out. Offer a solution. Better than that, be a leader in creating a solution and invite your community to join you in the effort. Our consumers expect us to put the resources of the company behind our sentiments. It's about walking our talk, so when you speak up, you also need to be ready to step out.
There are some incredibly rewarding reasons, like being an influencing force for change that comes with using your brand's voice.
This was originally published in the Des Moines Business Record, as one of Drew's weekly columns.
More