September 9, 2020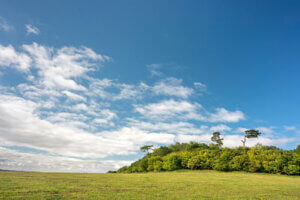 This past fall, I was able to spend some time in New York City and was able to catch several Broadway shows. Some were musicals, and some were dramas. Some were based on real-life events, and others were pure fiction. Some featured award-winning, famous actors and others did not. Some were set in modern-day, and others harkened back to an earlier time.
To say they were all very different would be an understatement. But all of them had one thing in common. Each one was roomy. What I mean by that is each show gave the audience plenty of room to absorb the message.
The sets were simple and more representative than actual. For example, in Come From Away, twelve chairs were a plane, a path, and a church. To Kill A Mockingbird, two tables and four chairs were a courtroom. The dialogue was deliberate, and the silences were purposeful and effective. It occurred to me that we could learn from these masterful playwrights and directors.
One of the common mistakes we make as marketers is trying to pack five pounds of message into a one-pound bag. We end up drowning our core messages with noise in a desire to include everything. My recent experiences as an audience member reminded me that when we do that, we actually weaken our messages because they don't have room to breathe, grow, or take hold.
The truth is that our audience is only going to remember one or two key points of any marketing message. Given the barrage of marketing messages out there, we can help our audience get the main point by not complicating the delivery so they can grasp and retain the message easier and faster.
There are some ways we can minimize the noise and give our core message the room it needs.
Visuals: One of the common missteps I see in ads, websites, tradeshow booths, and collateral material is the reliance on the photo montage. Rather than letting one visual stand alone and deliver the message, we feel compelled to use multiple images. That means the audience's attention is immediately divided. Each photo or visual is smaller and has less impact.
White space: Another way we demonstrate our lack of conviction in our product or service is by using up every inch of space in a layout. We're so worried that we're not going to catch or keep someone's attention that we need to add a starburst, five different font families, a headline, subhead, body text, bullet points, and some bold and underlined words as well.
Instead, we create a blur for our audience and force them to decipher what is most important … if they're willing to invest the time.
Words: How do you leave room when it comes to words? There are a few ways. First – use fewer of them. Don't tell them what you want them to know, and then tell them what you told them, and then sum it up by telling them again. Just say it. Say it boldly and clearly. And then, shut up.
Let your audience have time and space with your message so they can connect to it and assign it meaning that is relevant to them. Or, in some cases, decide that you aren't relevant to them at all, and move on. Either outcome is better than having no impact.
It takes incredible confidence in your product or service to execute on this idea of giving your marketing message some space. If you lack that assurance, more words or pictures probably isn't going to cut it. Instead, you probably need to take a step back and ask what would need to change so you could get comfortable giving your message a little bit of white space.
This was originally published in the Des Moines Business Record, as one of Drew's weekly columns.
More