September 4, 2019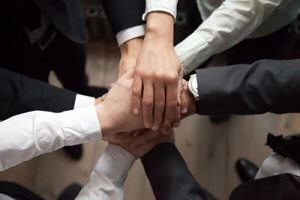 Like it or not, whether you work for an agency or client-side marketing department – much of your success is out of your hands. In the "you can lead a horse to water but you can't make him drink" analogy, it's your job to lure the horse to the water. But you are depending on the sales team to actually entice the horse to take a sip.
Unfortunately, you can't just boss the sales team around, unless you're their boss. But assuming you are just their peer or colleague, you're going to have to be a little sneakier to help them hit their numbers.
Let's look at some common mistakes that your sales team may be making and how you can help them over the hump to better sales.
Waiting for the prospects to come to them: No one likes a pushy salesperson so I understand the inclination to lay low until a prospect raises their hand and indicates that they are ready to buy. But the truth is that you need to be talking to them long before they reach for their wallet or purchase order.
What you're probably already doing: You're most likely piquing their interest by creating content that is helpful and relevant to them. You're offering that content through digital display ads and once they visit your site, keeping in front of them with retargeting. Once they decide they're ready to download your offer, you're capturing their email address.
How to step it up: You need to settle in for the long haul. It may take years from the time a prospect trades you their email address for something useful until they're ready to buy. You have to stay interesting no matter how long it takes.
Instead of just sending them your monthly newsletter that is all about you, your awards, your new sales, and your products – keep sending them more helpful content. Think of yourself as an educator and just keep teaching. But keep it interesting by creating a variety of pieces. Sure, you can offer them another white paper but after a while, they'll get bored. Create case studies that focus on best practices, testimonials that offer insights into problems they're probably facing and checklists that make their lives easier.
Your job is to keep helping in compelling ways until they're ready to buy. No matter how long it takes.
Thinking everyone is the same: Much like some basketball players have a "go-to" shot that they always take under pressure, many salespeople develop a certain offer or pitch because it's comfortable or because it's worked in the past. Many times, that's the right call but they also need to understand the nuances that make each potential customer a little different.
What you're probably already doing: You might have built personas based on your knowledge of the clients you already serve and some assumptions you've drawn about your prospects. You might have even built your online editorial calendar in a way that hits all of your key personas on a consistent basis.
How to step it up: You need to dig a little deeper. Why not do an audience attitudinal segmentation study? Demographic segmentation establishes groups based on who people are — age, gender, income, occupation, etc. Behavioral segmentation establishes groups based on what people do — what they buy, where they click, how often they visit, etc. But attitudinal segmentation will tell you why they make the choices they make and what matters to them. Imagine how you could create different channels and offerings based on that kind of insight.
You and your sales team are forever intertwined so you might as well do all you can to help them hit the numbers that bring you all accolades and rewards!
More