December 6, 2017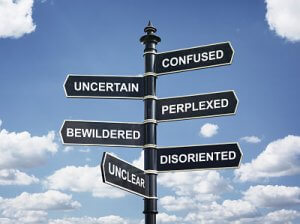 I had to call United's 800-number the other day to change an existing ticket. At each step of modifying my ticket, the customer service rep would have to key in some data and then there would be this long silence. I couldn't hear him typing or even a single breath. I assumed he was still there because I wasn't served up any on hold music or messaging. But, several times in the process, I'd actually say something just to make him respond because I was convinced we'd been disconnected.
As the call dragged on, I imagined that something had gone wrong. The silence was not only deafening but it made me fill in the blanks. This is not the first time I've had to alter a plane ticket. I know the drill and I know it takes several steps and more time than you think it would. But in the past, if there was a long delay as the computer was thinking or the rep was verifying something – they'd say something like "oh, my computer is slow today" or "this will take a few minutes, sorry for the wait."
My imagination worked overtime as the United rep continued in silence and I wondered what disaster must be befalling my travel plans. As I sat there fretting, it occurred to me that businesses do this to their customers all the time. I'm sure, from the United guy's point of view, he was doing exactly what he was paid to do – change my ticket in the most efficient and effective manner possible. So he was probably concentrating on the work at hand. He was focusing on the facts of the transaction, not how I might be reacting to his methodology.
Silence breeds worry and uncertainty. Neither is a healthy ingredient for any relationship. The only place silence does even more damage than what it does in our client relationships is the impact it has on our relationships with our employees and teammates. I believe it's all about vulnerability.
Here's my "how much should I communicate" barometer. The more the power has shifted in my direction, the more I must communicate. So if you're the boss or a customer is particularly beholden to you or at risk if you drop the ball – you must overcommunicate to keep them secure.
This isn't just about being benevolent. When your employees and teammates feel completely in the loop and know what's going on – they can help you get to the finish line faster and more profitably. They don't accidentally derail your efforts nor do they make up things in their head that encourages them to intentionally get in your way.
We've all done it. We misread clues like a closed-door meeting or someone's absence and before you know it, we've spun a doozy of a tale. That's not just silly. It costs you money, productivity and in some cases, it might cost you the employee. All because they didn't understand. It's your job to over communicate so they do understand.
The same is true for customers. This isn't just about giving them peace of mind because you're a kind human being, although I'm going to assume that is part of the motivation. A client who knows what is going on, is given forewarning if there's about to be a problem and is kept apprised of the status of your work together will stop micromanaging. They'll stop constantly asking for updates or altering the details.
When in doubt – tell them again. Have you ever had a customer or an employee tell you that you're going overboard in terms of keeping them in the loop? I honestly don't think it's possible. Whatever you're doing – double it and it's probably about right.
More