March 24, 2012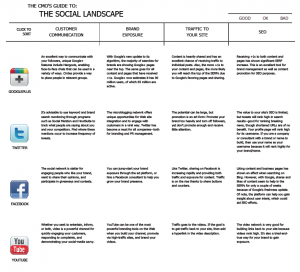 As I travel the country, teaching people how to integrate social media into their marketing efforts — I often get asked — if I only have time to invest in one social media tool or site — which one is best?
Naturally, my answer is the definitive — it depends.  Accurate but not all that helpful.
Like any marketing tactic — the effectiveness of it is based on what you're trying to accomplish.  Social is no different.  Which is why tools like the social media cheat sheet that you see to the right are so helpful.  (Originally created by CMO.com back in 2010).
The criteria that they used to "grade" each tool were:
Customer communication
Brand Exposure
Traffic to your site
SEO
The cheat sheet has been updated.  I think you'll find it very valuable as you access where you should spend your resources (time, money, attention) in the coming year.
You can download a full sized PDF by clicking here.
The tools they evaluate include the standards like Facebook and Twitter but the sheet includes 14 different sites including the likes of Pinterest (of course) and Reddit, Digg and Slideshare too.
You can also view the cheat sheet on the CMO site here.
More