This is the fifth in my eight-day series – Marketing Lessons from Walt. As my family and I enjoy Walt Disney World, I'm going to capture some of the marketing genius that I believe began with Walt's passion and has now grown into one of the world's most powerful brands.
For many families, a trip to Disneyland or Walt Disney World is a once in a lifetime experience. Kids dream for years before they finally get to step into the Magic Kingdom. So the expectations are incredibly high. This can't just be a fun vacation. This needs to be the uber vacation.
One of Disney's habits that has helped launch and maintain their brand's success is that they listen and respond to what they hear. It's not uncommon to get stopped by a survey taker in one of the theme parks.
Here's an example. Kids arrive at Disney World with one goal. Meet Mickey Mouse. It's their core reason for making the journey. They have dreamed of that moment for years. It used to be that it was left to chance. If a child happened to be in a particular spot in the Magic Kingdom, when Mickey was there signing autographs then the child's dream was fulfilled. But, if the fates didn't align, the child was likely to go home having seen Mickey in the parade but never being able to hug or interact with the Big M himself.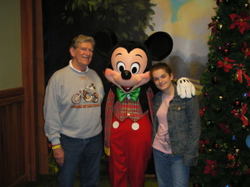 Parents shared this insight with Disney officials and Toon Town was created. A whole new land, where you can tour Mickey and Minnie's homes and, no matter what else is going on in the park — meet Mickey. Mickey now waits for his fans, young and old, to come visit him in Toon Town. Today, no child has to leave their uber vacation without a Mouse encounter. Cue the happy music.
When was the last time you asked your customers what they wanted or needed from you? How did you let them know that you heard them? Never asked? What's stopping you?(My dad and daughter enjoy their mouse meeting)
Marketing Lessons from Walt – The Series: