This is the second in my eight-day series – Marketing Lessons from Walt. As my family and I enjoy Walt Disney World, I'm going to capture some of the marketing genius that I believe began with Walt's passion and has now grown into one of the world's most powerful brands.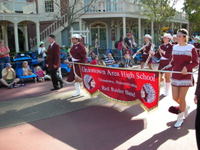 I witnessed an amazing sales lesson today. I watched the Red Raider Band from Uniontown, Pennsylvania proudly march in the Magic Kingdom's parade. I am sure for some of them, it was the highlight of their band career to date. But let's look at what happened, from a sales perspective.
The buyer (the school) contacted the seller (Disney) unsolicited and asked to buy.
The seller said "Maybe, but prove your worth."
The buyer received an acceptance letter and ticket order form in return.
The buyers (students) paid for their own airfare, Disney lodging, and entrance into the theme parks.
The buyers helped Disney provide entertainment to their guests.
The buyer bought Disney t-shirts, sweatshirts, ears and other items to commemorate their trip.
The buyer no doubt also brought family and friends…who also stayed on Disney property, bought Disney tickets (have to cam cord the performance!) and Disney souvenirs.
And I doubt they only stayed for the day of the performance. Was that a cash register cha-ching I just heard? And they were thrilled to be the buyer. They'd do it again if they could. (The Rose Bowl and many other events handle band appearances like this too, by the way.)
Think only Disney can turn buying into a privilege? How about Harley Davidson? How about the consultant who only takes on two new clients a year?
Of course, the bigger question is this. How can you turn some aspect of doing business with you into a privilege that your potential consumers would pay a premium to have and be thrilled to do so? (Don't underestimate that part of it. If they aren't thrilled to do it, then you're just too expensive.)
Marketing Lessons from Walt – The Series: