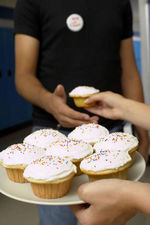 We've been talking about giving quite a bit lately.
It shouldn't surprise you at all that this focus on giving would be adopted by a conference focused on taking your blog to the next level by building stronger and more valuable relationships.
You give a little. You get a little. That's the balance of a good relationship.
Unlike a typical conference where the speakers are the only ones who get to share, at SOBCon we're turning that notion upside down.
Each and every participant is invited to bring something they've created – a book, a white paper, a podcast series, a visual tool – you name it for every single attendee and speaker. Imagine leaving the conference with a bag filled with knowledge, insights, laughter and inspiration.
And even better; imagine every SOBCon attendee learning more about your blog and passion, and being touched by your work.
There are only a few rules:
It has to be your original content.
You must bring enough for everyone.
You must be willing to give it away for free.
Register today so you can get a little. And get a lot!