July 8, 2007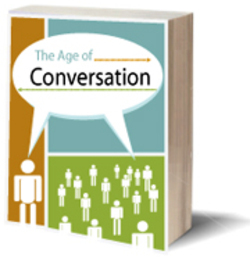 We're only a week away so we decided to give you a glimpse at the Age of Conversation cover.  Cool, eh?
There's a little more copy on the real cover but this gives you the main idea.
Believe it or not, a few months ago Gavin & I hadn't even conceived the idea for the Age of Conversation.  A glimmer of a blog post/comment, over 100 enthusiastic and smart writers and voila…the book began to take shape.
Originally, we were just going to produce an e-book but it soon became clear that there was a significant demand for paperback and hardback books as well.  So…you will have your choice!
One key fact has not changed. 
All proceeds from all book sales will be donated to Variety, the Children's Charity.  We'll also be setting up a way for people to donate more than the of the book price, if they choose to.  We'll be designating the funds to the native countries of our authors.
Read about the book's origin.  Marvel at the author list.  Learn about the book's dedication. Pull out your wallet and get ready to revel in some excellent writing.
Here are the particulars…
Launch date:  Monday, July 16th
Formats/Prices:
Hardbacks $29.99
Paperbacks $16.95
E-book $9.99
Watch this blog (and all the other authors' blogs) for more details and a link to the Age of Conversation store on Monday, July 16th!
We hope you love this book because we've decided we're going to do it all again (new topic) next year!  If you missed out on authoring a chapter, be sure to let us know if you want in for the next edition.
Special thanks to David Armano for the cover design.
More