May 9, 2018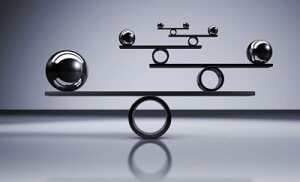 In the Mad Men days of advertising, it was all about mass media, reach and frequency. How many people can you reach and how often can you get your message in front of them? Today's marketing is a little more complicated than that. The channels have shifted from print, radio, and TV to more than we can count and within each medium, there are more individual channels than our forefathers in the business could have ever imagined.  Today, it is all about balance.
Back in the day, the advertisers controlled not only the message but also the distribution channels. The formula used to be simple – it took 8-12 exposures to a marketing message for the audience to take notice.
Today, as marketers who also serve as publishing organizations, you aren't bound by those constraints. When you own the enewsletter or Twitter account or control your direct mail schedule – you aren't beholden to just a budget dictating how often you communicate. It's still just as important, but now you have other elements (like the fact that your audience is also creating content about your brand) to factor in.
Frequency is a delicate balance. You have to communicate often enough that you stay relevant but not so often that you're annoying. Here are some best practices for you to consider as you map out your communications.
Enewsletters: If it is packed with breaking news or super current content, then your audience will be okay with a weekly publication. On the flip side, if it's bite-sized (300 words or less) then once a week is probably okay too. If it's a mix of helpful information and a smidgeon about you, monthly is plenty. But anything less frequent than that is probably not enough to be something your audience counts on.
Email marketing: These are the emails you send when you are hosting an event, have a sale or are promoting something new. You can send the same (or similar) content out 3-5 times over the course of a couple weeks. But then you need to give your audience a rest. You shouldn't bombard them with a flight of emails every month or your open rates will plummet.
Social posts (Facebook, Instagram, LinkedIn, etc): Once or twice a day is good as long as it's about them and not about you. These are not channels where repeating the same thing over and over again is advised.
Twitter: Twitter is a unique animal. Because the feed moves so quickly, if someone doesn't see it real time, odds are they are not seeing it at all. So it's okay to re-tweet the same message multiple times during the day. If you want a global audience, don't forget to schedule your tweets on a full 24-hour cycle.
Blog posts: If you're not adding new content aimed at being helpful every week, odds are you are not growing your audience. But for most organizations, blogging is more about influencing the search engines. If you're blogging more for SEO purposes, every two weeks is a reasonable rhythm.
Traditional media: Odds are, your budget is going to control this one and you'll have to be choosy about where you appear to get enough frequency. Having a greater presence in one or two channels (a print pub and a radio station for example) is much smarter than being a mile wide and an inch deep. Media mix is very valuable if you can afford it. But if it simply dilutes your exposure, it's hurting more than it is helping.
Every audience is unique. While these are helpful guidelines, you're going to want to experiment with your specific audience to see what the optimum frequency balance is for them.
More