December 23, 2020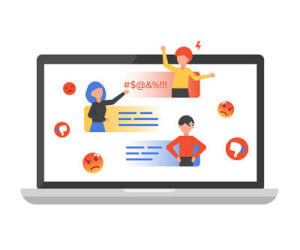 Ratings and reviews play a critical role in how our prospects measure our worthiness, long before we know they're out there. No one will make every client happy 100% of the time, and sometimes we'll genuinely earn a mediocre review. But what do you do when a troll decides to target you?
We're dealing with this right now for a client. Our client produces a monthly newsletter that goes out to their clients, prospects, and anyone who signs up on their website.
They've followed all of the laws and best practices around email marketing. They don't buy lists, and they don't add people without their permission.
This week, an irate man blasted them with a Facebook review, calling them spammers. He admitted that he chose not to click on the unsubscribe link because he'd rather leave nasty reviews and demanded to know how he'd gotten on their list.
Before leaving the review, he called their office and screamed at their office administrator, demanding to be removed from the list. She freaked out, and admittedly this is where a mistake was made. Typically, when someone unsubscribes, they stay in the CRM system, but their record is blocked, meaning they cannot be sent another email.
But she was so unnerved by his call that she deleted him entirely from the system, so there was no chance he'd ever get another email from the company. But it also meant we couldn't review the record to answer all of his questions.
He got even more belligerent (commenting on his own review), promising he wouldn't go away.
We consulted with an attorney who specializes in this area. She told us that here in the U.S., he has a right to:
Know what data of his you have.
Ask you to delete his data.
Tell you not to contact him again.
Interestingly, the rights don't include a business having to tell the person where their information came from. We would have gladly told him that information if we could have retrieved it. But we were not in any way violating the law by not being able to share that information.
While we were gathering up all of this information, the troll continued to email the business owner, promising that this was not over, and he'd leave a bad review everywhere he could. He also admitted that he does this to every business that sends him an email that he believes he did not request.
We reached out to our client's customers, explained the problem, and asked them to leave an honest review to push his review down on the site.
The business owner, who had already replied to the review on Facebook with an apology and explanation, sent the troll an email restating the apology and giving him all the information he could, and offered to let the troll speak to the business's attorney. Since then, the troll has left three more scathing reviews on different sites, and the loyal clients of this business have responded with reviews to water down the impact.
What are the lessons here?
Monitor all review sites daily.
Be sure you are following the most up-to-date rules and laws.
Include an unsubscribe option on every marketing email.
Build your community so they will rally behind you if needed.
Deal with trolls quickly and directly.
And maybe the most important one: Trust people to see the troll for who they are and to temper their reaction to the review accordingly.
Email marketing is still one of the most effective tactics out there. Do it well, and don't let a troll dissuade you from continuing to use it.
This was originally published in the Des Moines Business Record, as one of Drew's weekly columns.
More