November 4, 2020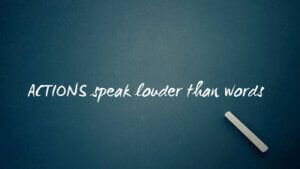 As marketers, we've always known that a brand's internal actions should align with its external messaging. Companies find themselves in hot water when they make promises they have no intention or history of keeping.
When a brand is exposed for saying one thing and doing another, it rarely ends well, and that was true before social media and when the world was normal.
But today, in the middle of the pandemic and the Black Lives Matter movement, and as we await the results of a very contentious election, it seems even riskier to make public statements that you and your employees can't live up to every day.
There's significant social pressure for business owners and leaders to speak out on issues and take a stand. We've certainly seen that over the past few months, and that pressure has only increased as we approached the election and everything heated up even more.
Over the last few months, we've seen companies called out by their employees for their lack of racial equity in hiring, promotions, and pay despite their public declarations that Black lives matter. People are not particularly tolerant or accepting of a superficial response to a serious social issue. Posting a black square or a generic pledge of outrage against racism is not enough, and in the current environment, it's just asking for scrutiny and criticism.
The same is true for the pandemic. Taking a strong stand advocating for social distancing and masking on your social channels or requiring your customers to comply with stringent rules requires that your employees also honor these new rules.
A few months back, I flew for the first time since March. I was ready – I had several masks, some disinfecting wipes, and plenty of hand sanitizer. The airline's ground crew and gate agents were all properly masked and keeping an appropriate distance. But when I boarded the plane, I noticed that one of the flight attendants was wearing his mask over his mouth but not his nose. He wasn't working anywhere near my seat, but I kept watching to see if one of the other flight attendants would say something. No one did.
A few days later, I was flying home and happened to be seated near a pilot in full uniform who was deadheading to work. As we got ready to take off, he had his mask on.
Once we were in the air, the mask went away. Two hours later, one of the flight attendants asked him (finally) to put his mask on, which he did for about five minutes before taking it back off.
If I noticed these two employees and their disregard for their employer's requirements, I'm sure other passengers did as well. In the short run, this opens the door for customers to ignore the rules, which leads to the other customers being uncomfortable and opting not to come back.
In the long run, it puts the business's viability at risk. Imagine what would have happened if one of the passengers snapped a photo of one of these employees actively ignoring their company's policy. It would have spread like wildfire on social media and been a PR nightmare.
If there was ever a time when consumers and employees expect our words and our actions to align, it's now. Gone are the days when lip service or a superficial effort is considered acceptable.
So before you take a stand publicly on any hotbed social issue, you'd better be ready to examine your company's policies and practices. You'll want to make sure you don't promise something you can't honor. The consequences of that choice may be more than you can afford.
This was originally published in the Des Moines Business Record as one of Drew's weekly columns.
More