July 12, 2017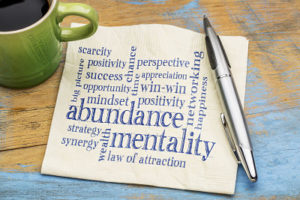 When I started in the agency business 25+ years ago, there was this odd paranoia that ran through agencies big and small.  There was a belief that agency personnel couldn't be friends with people who worked at other agencies because secrets might leak out. And if you dared to be friends or even associate through a professional network – you'd better not bring the other agency's employees into your office for fear that they'd walk by something and glean secret details about your accounts. All of this is what I call a total lack of abundance thinking.
I know it sounds crazy – but it was very pervasive through the industry back then. Today, I'm happy to report that with few noted and paranoid exceptions, agencies seem to recognize that it's actually healthy for agency professionals to mingle together for both the shared learning and camaraderie.
That paranoia was a symptom of scarcity thinking.  I don't think the ad industry is the only one who did/does suffer from having that point of view. I think it's easy for any of us to get stuck in that rut.
We've all seen scarcity marketing and sales in action.  It's the overly attentive sales clerk following you around the store, the car dealer who won't let you take a test drive without being in the car with you, or the salesperson that knocks the competition at every opportunity.
There's a scent of desperation in scarcity marketing and sales that puts the buyer firmly in the driver's seat. It converts the transaction from a potential partnership to an uneasy game of tug o' war that ultimately puts you at a disadvantage because you want the deal more than your potential buyer does.
It creates the sense that there's some sales quota that's not going to be met or some other looming deadline that has everyone scrambling to cut a deal.  That rarely works out to the seller's advantage.
I'm not talking about the idea of creating scarcity around your product or service. Letting someone know there are only four plane tickets left at this price or that you won't be offering the workshop again until spring can be very effective because it actually is a position of abundance.  You're basically saying, "Hey, just to let you know, I only have five of these left. Let me know if you want one before I sell out."
That's the secret of an abundance mentality. It's very laid back and it gives the impression that while you're happy to sell your wares, you're equally okay if the prospect isn't interested because someone else will be. That confidence in your product or service is contagious.
What does abundance marketing and sales look like?
You share your knowledge freely:  You teach and give away your expertise through white papers, ebooks, blog posts, free webinars and other tools.
You are quick to tell someone when what you sell isn't right for them: You know that an unhappy customer costs you more than what you could possibly make off of them, so you encourage them to find a better fit.
You don't haggle on your pricing:  You know that what you offer is an incredible value at the price you've quoted, so there's no reason to play the game. You set an honest, reasonable price for what you offer and then you stick to it. If the prospect doesn't want to pay that – it's okay because someone else will.
You don't chase potential buyers: You know that you can't make someone buy before they're ready so there's no up side to being a pest. You keep offering value and your expertise and they'll come around when it's time.
Review your marketing tools and procedures. Do they suggest you're desperate to make a sale or do they convey a sense of abundance?
More