September 23, 2020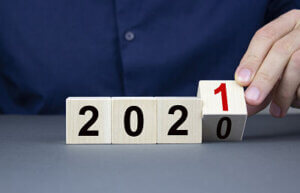 Big, small, for-profit, or not for profit – every organization needs a marketing plan, and that marketing plan requires a refresh every year. Now is the time to get your ducks in a row for 2021. The channels, audience expectations, and possibilities are changing faster than we can keep pace. A three-year-old marketing plan is absolutely obsolete.
Many businesses don't even venture down the marketing plan route because they assume it has to be complicated and complex. The truth is, for most companies, even if they had such a plan, they wouldn't execute against it because it had too many bells and whistles. I'd much rather see you oversimplify your plan and actually use it.
I want to look at the big picture vision of your marketing plan. If I asked you how confident you were that you could hop in your car and get to the destination, what's the first thing you would say? It depends on the destination! If it's Minneapolis, no problem. If it is Hong Kong, we have an issue. In that context, it seems absurd that I would ask you to get to an undisclosed destination, and yet that's how many businesses run.
Without a doubt, the most crucial element of your 2021 marketing plan is the defined destinations. I use the plural because every plan should have more than one. Ask yourself these questions to define where you're headed.
What metric will best define success when it comes to new customers for my business? Don't assume it's about more. It might be about bigger. Or a different composition. Or a whole new segment.
What metric will best define success when it comes to current customers of my business? Is it that they stay longer (retention)? It could also be that you have a bigger share of their wallet/spend. It might not have anything to do with sales. It could be that they become a more vocal, insistent referral source or an active source of five-star reviews and ratings.
What metric will define success when you look at your department or company's workforce? It could be tied to improvements and enhancements in their skills or knowledge. For many businesses, the retention of key employees might be vital to a healthy 2021.
Finally, you need to define success in terms of your actual products and services. You might be planning on launching something new in 2021. Or you may want to have more of your customers using a specific service or bundle of products. Success may be tied to how many products or services your average customer buys.
Once you have defined success in these four core areas, you can begin to identify the potential barriers to achieving those goals. Is it a lack of awareness? Price issues? A competitive advantage that you don't currently have?
If you can't identify the potential barriers, you have some work to do before you can decide which marketing tactics will help you. It makes no sense to execute marketing if you don't understand both where you are trying to go and what's in the way of you getting there.
The more specific your answers, the better. Don't just say the marketplace is crowded. List the key competitors and their position or influence on the market. Don't just say your customers are hard to reach. Define what is in between you and that decision-maker.
If you put in the time and effort in these four core areas, I promise that you will have a great start on a marketing plan that you can dive right into executing.
This was originally published in the Des Moines Business Record, as one of Drew's weekly columns.
More