October 29, 2009
Last year, I told you about Meijer, a 180 big box store in the Midwest and the very cool promotion they unleashed on Chicago and Cincinnati around Halloween.  Their headless horseman rode wild through the streets…having some fun scaring the downtown crowd.
Well this year, they've upped the ante.  They've created a 3D experience where you can "put on a mask" and record a Halloween greeting.  Basically, it's a digital hologram called augmented reality.  (Kevin Dugan explains it better than I can.)
Using this technology and your webcam, you can record a :30 video message wearing one of the masks and altering your voice to match the mask.  Then, you can e-mail it to someone, or share it on Twitter or Facebook.
Come on…you know you want to try it.  Go give it a spin here.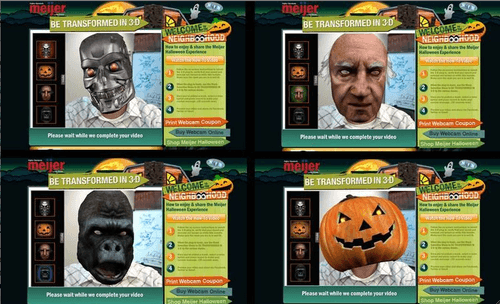 But…this isn't just for fun.  Much like Office Max's Elf Yourself success (read about their PR results here and here) this is ultimately about selling product.  PR is dandy, but are we moving product?  
Yes, it will.  But it doesn't happen overnight.  Office Max and Meijer need to wrap their arms around the idea that this is a long term strategy.  (And I suspect they both have)  This is not a "put out a 20% off coupon and watch them flock in" sort of an effort.  This is brand building.  This is buzz building.  This is about creating connections.
And when someone feels an affinity or connection to your business, eventually they'll come back and buy.  I've said it before but…marketing is not a sprint, it's a marathon.  And both Office Max and Meijer are proving they're in it for the long haul.
More