February 28, 2010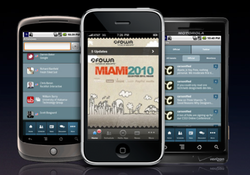 Last week I announced that the Drew McLellan iPhone and Droid apps were available.  I also promised that I'd walk you through the process I went through to create the apps.
To give you the kind of detail I want to share, this is going to end up being a few blog posts, rather than one novella of a post!  Today, let's focus on who I was going to partner with to get the app done.
Exploring the options
Once I decided that I had better jump on the mobile bandwagon, I sought out Mike Sansone — who many of you may know, was my blog coach when I got started and is still my Go-To guy when I need to learn something new in the space.
I asked Mike to take me on a tour of the potential vendors and help me gauge the pros and cons of each.  (A side note… there are many brilliant app designers out there but I knew I didn't need or want something that custom.  So I wanted an off the shelf solution that I could customize a bit to make it my own.)
Mike showed me the following sites:
iSites (http://isites.us):  This is a new player to the space.  
Pros:
Price was right… One time $25 fee if they got to choose the ads that appeared in your app's footer banner (all family friendly) or $99 a year if you selected the ads you'd allow.
They'd do all the work of submission to Apple etc.
Also would build a Droid version
Allowed the app user to share your content via Facebook & Twitter
With the $99 version, you could monetize your app if you wanted
Cons:
You had to have ads on your footer banner
They are new in the space…not a lot of feedback (good or bad) about them yet
No push (send messages to app subscribers) yet
Mother Apps (http://www.motherapp.com/) 
Pros:
Clearly vetted — Guy Kawasaki and Chris Brogan among others use them
Free if you allow ads (which you can share in the revenue), $99 a year for the no ad version
They'd do all the work of submission to Apple etc.
fast — you could have your app in the Apple Store within 7-10 days of submission
Cons:
Not a lot of customizing can be done — pretty much your blog feed, your Twitter feed and one other option (most use YouTube it seems)
No push (send messages to app subscribers) yet
No Droid or Blackberry versions yet (but their site says they are coming soon)
AppMakr (http://www.appmakr.com/)
Pros:
Lots of big names are using them (Inc., Seth Godin, AllTop)
Very fast turnaround (Could be available in a day or two)
$200 one time fee
They'd do all the work of submission to Apple etc.
Phone tech support available ($120/hour)
Can customize the app's tabs
Cons:
No push (send messages to app subscribers)
No Droid or Blackberry versions yet
Mobile Roadie (http://www.mobileroadie.com/)
Pros:
Vetted and used by people like Dan Pink and Ashton Kutcher
Incredibly easy interface and content management tool
Publishes with built in multi-language support
Has push capabilities
Already building Droid apps too
They do all the work of submission to Apple, Droid, etc.
Lots of viral features — users can share your content via Facebook, Twitter, e-mail
No ads
Cons:
Most expensive of the bunch — $500 set up fee ($200 more if you want push)
$29/month fee
I'm sure there are other vendors out there — these are just the ones we looked at.  As I learned more about what was available, I was also able to sort out my own priorities.  Here's how they shook out:
Ease of use — I wanted a content management system that I could handle on my own
I wanted to be able to share more than just my blog feed and tweets
I didn't want to be limited to iPhone users so I wanted to publish for other platforms like the Droid
I wanted the push functionality
I wanted to be able to customize the navigation (both labels and order)
I wanted users to be able to share (Facebook, Twitter etc.) my content from the app
I wanted to be able to link to my books (with easy access to buy)
In the end, despite the higher cost — I decided on Mobile Roadie.  They offered more customization and the ability for me to really include a wider variety of content in my app.  But it was their content management system that really won me over.
In another post this week, I'll give you a tour of just how easy it was for me to add content and create the look/feel of my app.
More